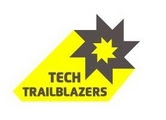 Who will be named this year's enterprise tech startup stars? Only 3 days left to support your favourite finalists
The
Tech Trailblazers Awards
, the first annual awards program for enterprise information technology startups, will be closing their online voting on 16th January at 23.59 Pacific time. Startups from a range of enterprise IT areas were handpicked by the esteemed
judging panel
of industry experts, with the general public currently deciding who will be crowned this year's Tech Trailblazers.
Click here
to view the finalists and make your mark!
The Tech Trailblazers has welcomed finalists from around the globe, in the categories of Big Data, Cloud, Emerging Markets, FinTech, IoT, Mobile, Networking, Security, Storage, Sustainable IT and Virtualization. This edition also introduced the Firestarter award, designed for category startups 2 years and younger, and below Series A funding. It was created to ensure entry fees were not a barrier for new startups still securing major funding from VCs.
Aside from exposure to industry experts and recognition in the media, winners can look forward to prizes to make their business even more successful.
Rose Ross, Chief Trailblazer and founder of the awards said "We look forward to announcing the winners soon, and with only 3 days left to vote we await the final scores on the doors to round the competition off. We've seen such a high standard of compelling technologies this year across all categories, including some fantastic ideas and solutions in our newcomer areas of FinTech and IoT (Internet of Things). If you haven't voted yet, head to
http://www.techtrailblazers.com/award-categories/
to help decide the finalists' fate in the awards!"